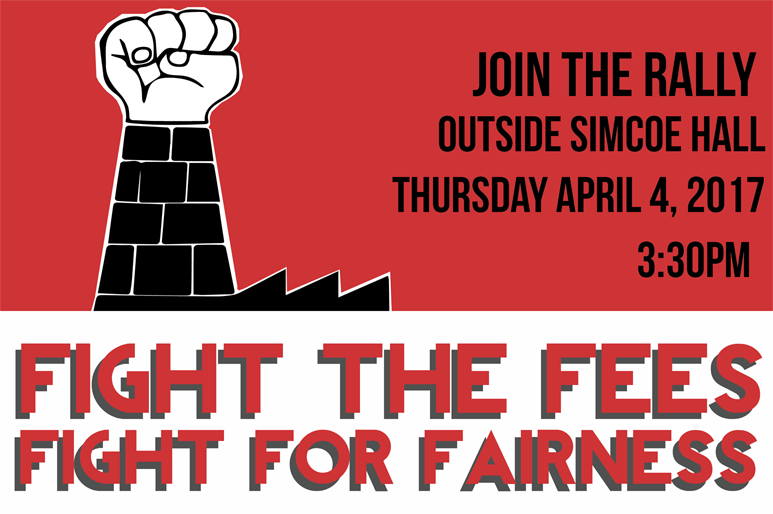 FIGHT THE FEES
UofT's Governing Council is voting on tuition fee increases for students on April 4, 2017. Students at UofT pay among the highest tuition fees in the country on average. Over 50% of students across UofT rely on OSAP and many work multiple part-time and full-time jobs to fund their education. High tuition fees and student debt disproportionately affect low-income, racialized, and indigenous learners. International students are made to pay the difference for government underfunding. Stress from high tuition and debt is taking an increasing toll on students' mental health.
FIGHT FOR FAIRNESS
Many students and workers at the University make less than a living wage. The University of Toronto can afford to pay all students and staff who make this University a world-class institution a living wage. This includes Scarborough Campus cafeteria workers currently on strike to end poverty wages.
As university students, educators, and community members, we want to see quality public education that is accessible to all. As students and workers at this University, it is up to us to defend the right to education and better working conditions and build the University we want to see.
On April 4, 2017, we are calling on Governors to:
Vote NO to all proposed tuition fee increases
Commit to ensuring a $15/hour minimum wage across the University
JOIN US – RALLY AT SIMCOE HALL
April 4, 2017, 3:30 pm
27 King's College
ASL interpretation will be provided. Questions, endorsements or accessibility requests? Email: fightthefees@apus.ca.
Endorsed by:
Association of Part-time Undergraduate Students (APUS of the UofT)
Scarborough Campus Students' Union (SCSU)
University of Toronto Mississauga Students' Union (UTMSU)
Canadian Federation of Students' Ontario
Unite Here Local 75
CUPE 3902