UPDATE: Our Annual General Meeting, previously scheduled for March 13, 2020 was postponed to ensure the health and safety of our membership due to the COVID-19 situation. Please stay tuned for a reschedule date!
The Annual General Meeting (AGM) is a way for the APUS membership to get involved in the decision-making processes of their union. At the AGM, you can review APUS finances, vote in the Board of Director Elections, hear from your APUS Executive, and discuss issues that matter to you with your fellow part-time students.
Upcoming Annual General Meeting 2020
APUS Annual General Meeting
March 13, 2020
Dinner at 5:30pm
Meeting at 6:00pm
563 Spadina Crescent, Rm. 236 (APUS Boardroom)
All-part time undergraduate students are welcome and encouraged to attend. Join us for dinner, meet your fellow part-time students, vote in the Board of Director elections, and learn more about APUS! 
Access Information
Wheelchair accessible entrance located on Bancroft Avenue.
Accessible, single-person washroom located on the same floor as the meeting.
ASL interpretation and live captioning will be provided.
TTC tokens available.

For access needs or more information, please contact Caitlin, APUS Executive Director, at ed@apus.ca. 
Meeting Package and Financial Statements
Please find the meeting package, including the agenda, minutes, and bylaw amendments here: AGM Meeting Package – March 13, 2020
Please find our audited financial statements for the 2018-2019 fiscal year here: APUS Audited Financial Statements April 30 2019
Please find the proxy form here: AGM 2020 Proxy Form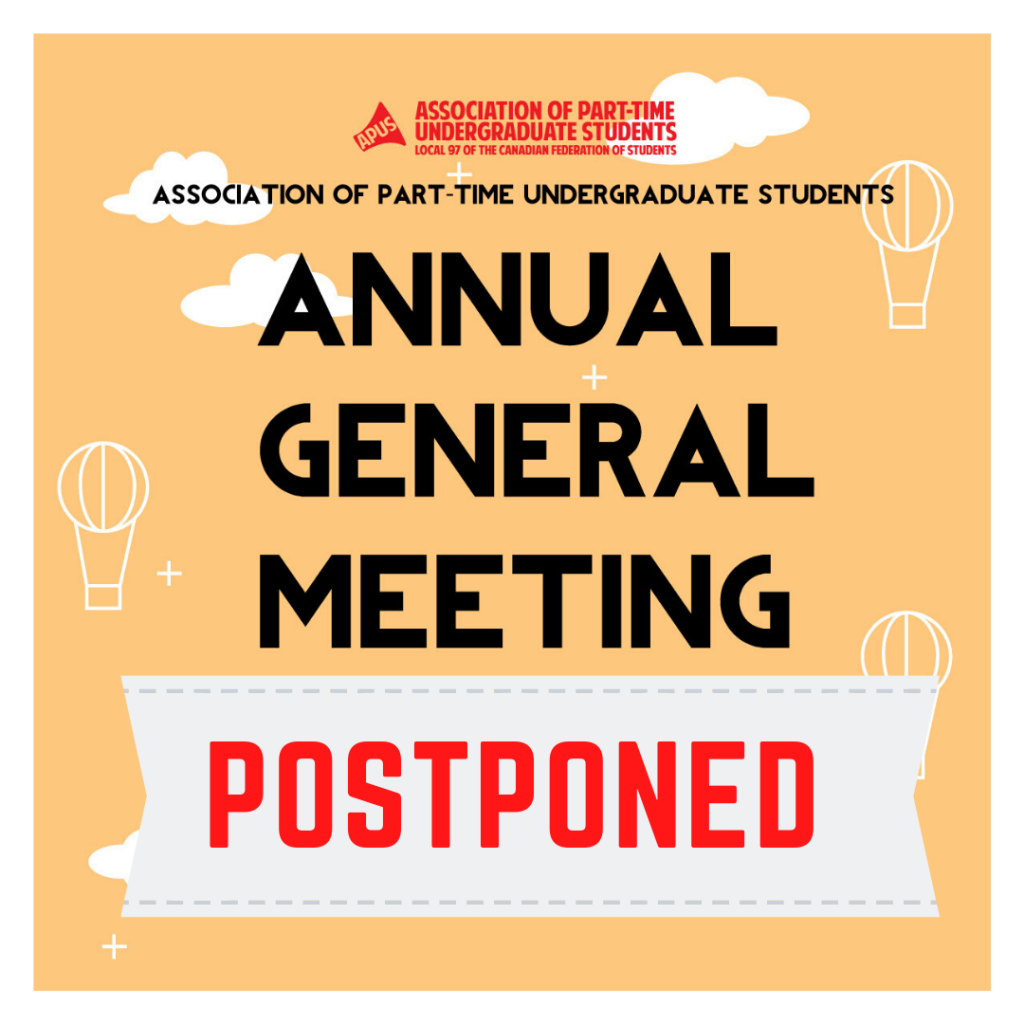 Past Annual General Meetings:
Annual General Meeting 2019: Meeting Package
Annual General Meeting 2018: Meeting Package
Annual General Meeting 2017: Meeting Package
Annual General Meeting 2016: Meeting Package