Academic Support Services
APUS aims to provide academic support services specifically for part-time students and mature students. Our Academic Support Services include the following:
Academic Support Workshop Series
Academic Support Workshop Series Fall/Winter 2019-2020
Our APUS Academic Workshop Series for Fall 2019/Winter 2020 will include the following workshops:
Applying to Graduate School: Peer Feedback Session – October 17, 2019
Graduate School Experience: Student Panel – October 28, 2019
SBA Self-Advocacy Workshop for Disabled Students – November 11, 2019
Academic Writing Workshop – November 2019
Introduction to U of T Library: Research Skills and Resources – November 28, 2019
Peer Study Hubs for Final Papers & Exams  – December 2019
Final Paper Peer Feedback Session – March 2020
For more information and access needs please contact services@apus.ca.
Academic Support Workshop: Final Paper Peer Feedback Session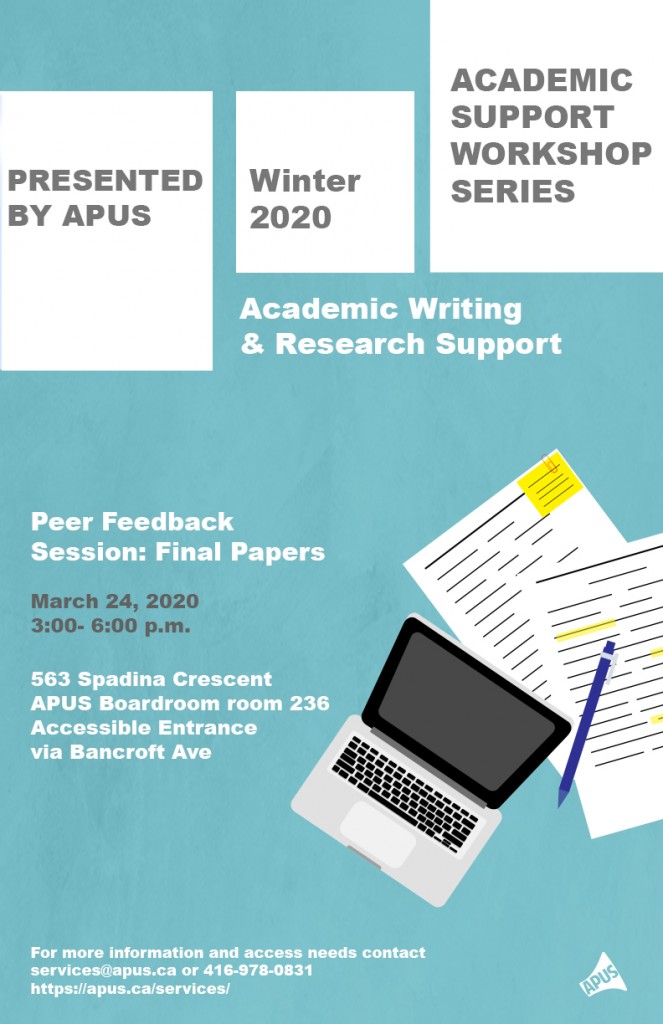 Are you currently working on your final paper? Are you looking for feedback from your peers on your writing and research resources? Come join us anytime between 3 – 6 p.m. at APUS and get some support from your peers!
Date: March 24, 2020
Time: 3:00 p.m. – 6:00 p.m.
Location: 563 Spadina Crescent, Suite 236, APUS Boardroom (Accessible entrance and elevators via Bancroft Ave) 
Registration is required. Please follow this link to register: http://bit.ly/2PnWH69
Access Information
Refreshments will be provided! Vegan, gluten-free options available.
Wheelchair accessible. Accessible all-gender washroom located on the same floor as the event room.
TTC Tokens are available upon request.
If you require ASL interpretation to attend the workshop, please contact us by March 10, 2020.
We politely request that attendees refrain from wearing scented products as this will be a scent-free space.
Contact Information
For more information and access needs, please contact Member Services at services@apus.ca or 416-978-0831.  https://apus.ca/academic-support/